THE DETAILS
Through in-home cooking classes, students learn how to cook the foods they love to eat in a relaxing environment. Students choose the date and time of their class, the menu they want to learn, and one of our encouraging and experienced Chef-instructors will arrive to show them the ropes. Classes are approximately 2 ½ hours and are centered around the preparation of a complete meal.
Please read all about how our in-home classes work, from scheduling to clean-up.
SCHEDULING
We can accommodate even the most difficult of schedules! Afternoon, after work, and weekend classes are all available. As a courtesy to our instructors, we require a 24-hour notice (by phone, please, in case we don't catch the email) to reschedule any booked class.
LOCATION
Classes can be held in any home kitchen in New York City (Brooklyn and Queens included). Sometimes we are able to travel beyond those boroughs, so please ask us if you live beyond the city limits. Traveling costs start at $60/hour round trip from Manhattan.
"IS MY KITCHEN BIG ENOUGH?"
As long as you can put a cutting board down (in the kitchen or on the dining room table) as many times as there are students, you can comfortably learn to cook in your home kitchen.
COOKING PARTIES
If you would like to gather a group of friends to join you in the kitchen for a night of cooking, please check out our cooking parties page.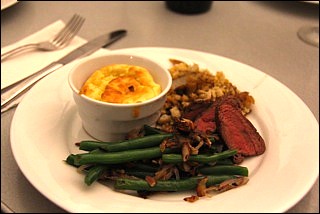 MENUS
All menus are tailored to suit the tastes and skill level of each student. For inspiration, browse through our most popular menus. Each student receives a recipe booklet at the beginning of class.
PRICING
1 to 3 students: $325
4 students: $400
For groups of 5 or more people, check our cooking parties page for details.
GROCERIES
Students will be sent a detailed shopping list prior to class so they will have the necessary groceries on hand. (Fresh Direct, for city slickers, makes this a breeze.)